Our radio and television serve the true information
To watch these TV and radio transmissions you need Real Player (TM), or REAL ALTERNATIVE (THIS IS BETTER). To watch the videos now without first downloading them, just click on the links in the green charts.
TV-RESISTANCE
IF YOU WANT TO HELP US TRANSLATING OUR SUBTITLES IN YOUR LANGUAGE, DON'T HESITATE TO CONTACT US: holywar@holywar.org


Cristiada (For Greater Glory)
The film, about the glorious Cristeros, is in English with Italian subtitles
Click on the image below to enlarge it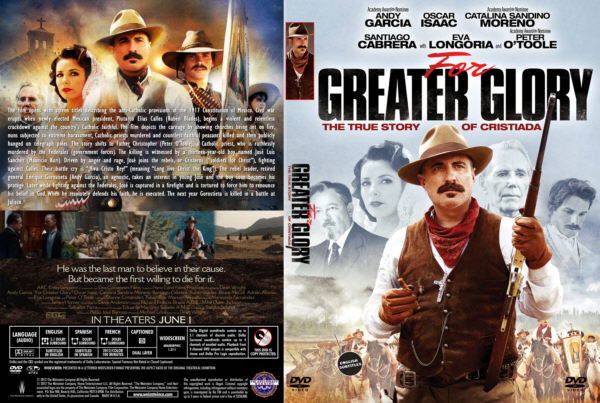 How Whites took over America
This the best available - 143 Mb only. If you have an old computer, you will need the free software 7-Zip to unzip the file

FORCES OCCULTES (=Occult Powers)
1943. B&W movie. Original French Dialog with English subtitles
This is the very best film to understand that freemasonry really is
Following WW2, the film's writer, Jean-Marie Rivière, was imprisoned. Its producer, Robert Muzard, and director, Paul Riche, were EXECUTED (+1949) for their part in the production of this film; please, pray for their souls.
(Second Edition, better than ever!)

We are glad to present you the 8th Edition of our Jud Suss DVD. In the second edition we added Croatian subtitles, after some months, we added Polish subtitles, than we added Russian, Spanish,
Portuguese

and Bulgarian ones. This time we added

Czech

subtitles too.

ESTO

NIAN tongue is the next. Help us to translate into other languages our subtitles: holywar@holywar.org This is our responce to the racist Jewish film "The Da Vinci HOAX", this movie tells ONLY lies...while "Jud Süss" tells ONLY the truth.

THIS CLASSIC FILM SHOWS THE CONSEQUENCES OF ALLOWING RACIST JEWS INTO THE CHRISTIAN SOCIETY

CLICK HERE TO READ MORE ABOUT THIS MOVIE
HIGH QUALITY VERSION VIDEO

(93_minutes)

The Rothschilds' Shares in Waterloo (Die Rothschilds Aktien auf Waterloo)
"Jud Suss" is the best German movie, but "Die Rothschilds" is very, very, good too. Now we have uploaded a FULL DVD version. Therefore, you can have fun with this new English subtitled version. We strongly raccomand you to use Metaproducts Mass Downloader, or a software like that, to take big files from this page. The sotware you need must support the "resume" option.


David Cole is a truth seeker and a really honest man. With this documentary, he provides us many proofs that the "holocaust" is a lie. David Cole is a real Jew, so his testimony is even more credible.
As promised, we are now able to provide you a nice "Big DivX" version of the movie. Please, help us dubbing it into YOUR language. All subtitles (French, German, Italian, Thai, etc., etc.) are welcome too

9-11 MISSING LINKS
THIS IS THE VERY BEST MOVIE ABOUT 9-11
To obtain a DVD copy of this movie CLICK HERE

Bishop Williamson on Orwells "1984" and 9/11
Bishop Richard Williamson speaks the truth about 9/11: it was an inside job. "The Truth will make you free, and the lies will enslave you"
This is a SEGMENT of the sermon
To ear the full sermon, that is very, VERY, interesting, download our DivX version

What we have lost and the Road to Restauration
(48_minutes)

The Secret KOSHER TAX That Raises Food Prices. Every Time your Eat, You Pay!
To know more, come and have a look to this Kosher Slaughter

The non-christian ecumenism of the Vatican

9/11: The Racist Jewish Mafia that rules America did it! It was an inside job!

The International Seminary of Saint Pius X - Ecône

Civilians massacred to test new kinds of weapons


The Inquisition was NOT like Jewish propaganda tells us


Dresden bloodbath: a REAL Holocaust!


Jewish Ritual Murder Revisited - The Hidden Cult


A message from the Iraqi Resistance Fighters to the Occupiers


Veteran admits: in Fallujah Bodies melted away before us.


Meet Cindy Sheehan, a mother who lost a son in the Iraqi war


The best living director fights against the jewish mafia


George Galloway (a british politician) speaks the truth against racist Jewish propaganda about last war (Aug. 2006 a. D.) in Lebanon


RADIO RESISTANCE
To hear the recordins now without first downloading them, just click on the links in the green charts.

Archbishop Lefebvre speaks frankly about the Pope
Archbishop Marcel Lefebvre

Ex-Zionist Benjamin Freedman speaks at the Willard Hotel, Washington D.C., in 1961 a. D.
Download PART 1 - Download PART 2 - Download PART 3

The concupiscence of wealth & the tyranny of money power
Download PART 1 - Download PART 2

Skulls & Bones: the satanic freemasonry
To download the MP3 version of this recording, click HERE

DEAR FRIENDS, WE NEED A SAFE HOSTING. WE CAN PAY FOR IT. HELP US! holywar@holywar.org
A.M.D.G.